Expanding the Vanilla Value Chain
Project Description
Natural Extracts Industries Limited ('NEI') is a natural vanilla flavour manufacturer collecting vanilla pods from 5,000 Tanzanian smallholder farmers. The company was established in 2011 with a vision to accelerate the economic development of smallholder farmers. Benefiting from Tanzania's ideal climate conditions to grow premium vanilla, NEI has created a vertically integrated vanilla chain by directly sourcing green vanilla from smallholder farmers. The vanilla is manufactured into vanilla pods and extracted at its production facility in Kilimanjaro region, and exported to international traders and retailers in the flavour industry.
The CFC supports NEI to expand the production and export of for responsibly sourced vanilla from smallholder farmers in Tanzania. NEI's integrated farm-to-market model reliably traces the quality and origin of vanilla on farmer level. Its dedicated team of agronomists and field officers are assisting the farmers with trainings in good agricultural practices and other services throughout the full cycle from planting of the vines, pollination of the flowers to harvest of green vanilla, which takes approximately 3 to 5 years. Mobile-based software tools are used to monitor its farmer network, providing full visibility on farmer profiles, field activities, procurement records, yield forecast per farmer, and other farm details.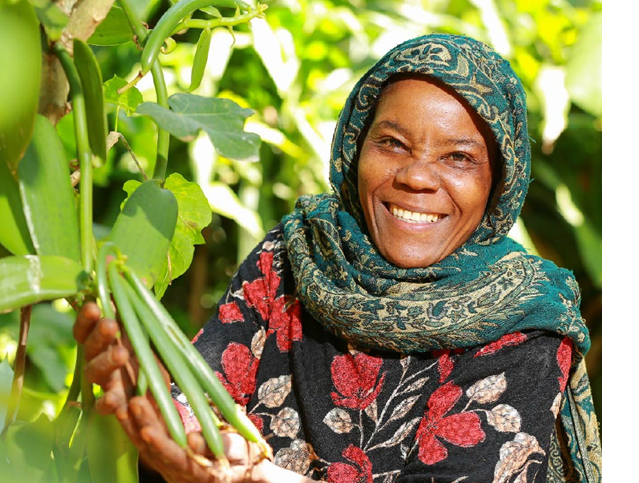 NEI has been instrumental in putting Tanzania on the global vanilla map, by planting over 200,000 vines to date, and selling its premium vanilla products to flavour houses and food manufacturers in Europe and North America. NEI currently operates in 5 regions in Tanzania where 75% of the population are smallholder farmers. A large number of farmers depend on coffee and bananas for their livelihood. Individual farm sizes have decreased over the years and an average farmer household has less than a hectare of land with average income of $500 per annum. Farmers have seen an 50% increase in income by growing vanilla in the shade of their existing coffee and banana trees.
More than 5,000 farmers are expected to benefit from its inclusive sourcing model over the coming 5 years, increasing their annual income from vanilla farming by 50%.
Current status
The CFC has extended a USD 500,000 loan to accommodate NEI's working capital needs, ensuring its farmers direct access to markets amid the challenges of COVID-19 and declining global vanilla prices.
Project overview CFC-2018-12-0066
Project type:
Regular Project
Project:
Natural Extracts Industries Ltd.
Commodity:
Spices
CFC Financing:
USD 500,000
Country:
United Republic of Tanzania
Cofinancier
Other impact investors: USD 500,000
Form of finance:
Loan
Target Impact Indicators:

Number of smallholder farmers: 5,000 of which 30% female

Increase in net income: USD 260 per annum

New full-time jobs: 45, of which 30% female

Average yield increase: 30% per annum