Celebrating 33 years of impact
On the 15th of September in 1989 the CFC was founded with a mission to tackle commodity dependence in developing countries and support smallholders out of poverty.
As we celebrate our anniversary, we're proud of our achievements. Our financial support for small and medium sized enterprises (SMEs) that work with the world's poorest commodity producers has boosted the livelihoods of thousands of farmers. 
Up to 2021 we had approved 448 projects worth USD 937 million, involving 70 commodities in 99 countries. As the infographic below shows these are spread across a range of sectors in some of the poorest nations with a particular focus on the least developed countries (LDCs).

But we know there is much work still to be done, particularly as pressing global issues such as climate change, health crises, conflicts and gender inequalities continue to disproportionately impact smallholder farmers. That is why we are seeking to increase the impact we have, which is reflected by the expected positive benefits of our current portfolio and the 11 new investments we approved in 2021 (shown below).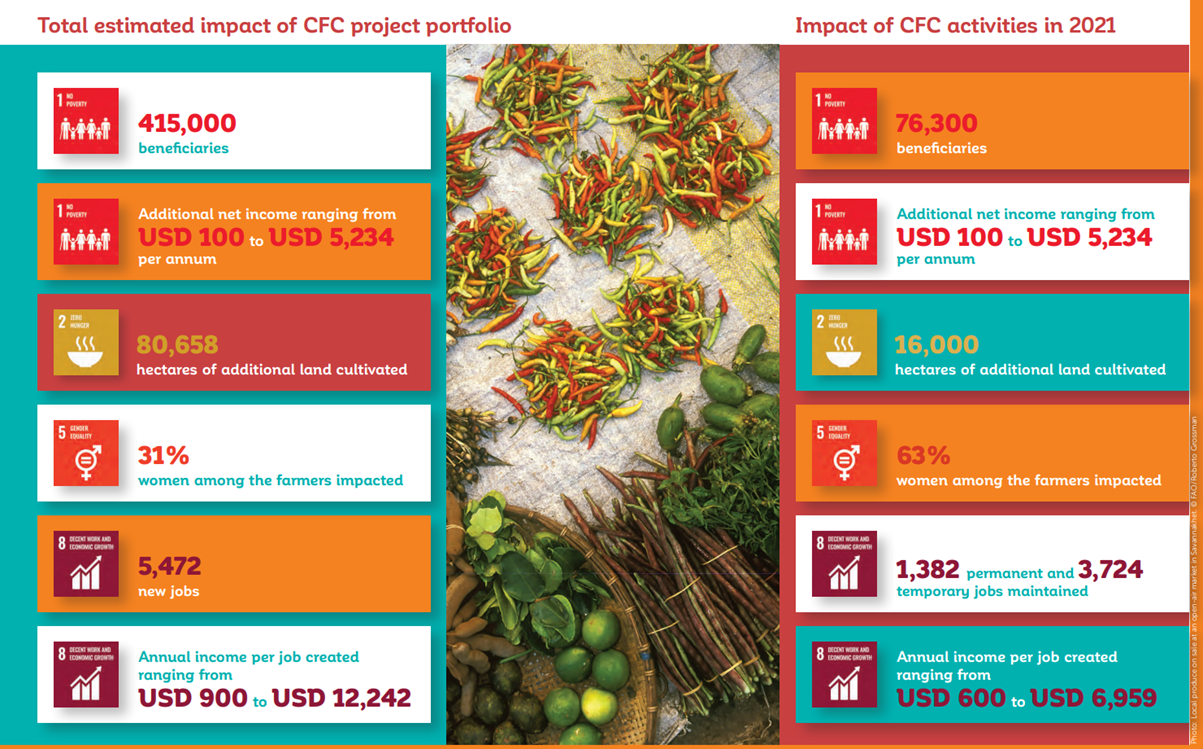 What makes the CFC so unique is the local impact we achieve through international collaboration and knowledge sharing designed to ease the trap of commodity dependence. We think this has a key role to play in achieving the UN's 2030 Sustainable Development Goals. 
Looking ahead, we want to build more partnerships with impact investors so that we can reach further into underserved regions and provide the backing agribusinesses need to thrive. With that in mind we recently became a member of the Global Impact Investing Network (GIIN) to help us create more connections that will make a difference. 
We are also strengthening our ability to respond to challenges such as the enduring pandemic, the impacts of war in Ukraine and the need to push ahead with the sustainability agenda. This includes sharpening our focus on the power of technology to transform commodity chains and launching our new Commodity Impact Investment Facility (CIIF) to enhance our support for the communities we serve.
We know our organisation can't fix poverty alone. But, supported by our member states, we will continue to contribute to the fight by providing economic opportunity for many of the world's 570 million smallholders and the small and medium enterprises (SMEs) they rely on.
Central to our achievements are our brilliant team members, who combine expertise in the field with a passion for alleviating poverty. It's their work that has enabled the CFC to deliver 33 years of impact alongside the businesses we invest in, and their work that will continue to change lives for many years to come.