LIFT: Contributing to the prosperity of coffee growers
Coffee brings more than a sensorial experience to its consumers – it also carries a history of environmental and social impact in coffee growing communities. This is an element that Mercon Coffee Group has put at the core of its activities since its establishment in 1952.
As a global green coffee supplier, Mercon has developed a sustainability strategy, for which the LIFT multi-services program for farmers has been essential. Based on three pillars – Profit, Planet, and People – LIFT is an integrated system of service tools supporting farmers to grow high quality coffee, while ensuring that their livelihoods and the environment benefit from these activities.
Measurable and accountable, impact is at the core of LIFT's innovative approach. With 18 practices that were developed around the three pillars, the LIFT Index assesses the work of each farmer and eventually assigns them a score. While three of the practices – no child labour, no discrimination, fair and equitable labour conditions – are mandatory, other practices are evaluated with different weights. Through its LIFT services, Mercon aims for farmers to reach a minimum of 80% in the LIFT Index within the first three years of program participation.
Thanks to LIFT, Mercon is the first green coffee supplier with a sustainability-linked revolving credit facility, which links the impact performance of LIFT with the interest rate of the loan facility. By improving the impact key performance indicators (KPIs), Mercon can qualify for an interest margin reduction. Savings from this are invested by Mercon back into LIFT. In contrast, if no KPI is achieved, an interest margin addition is applied to its loans and the increased revenue is invested by the financial institutions into a selected charity. To maximize the transparency of its process, an external auditing company verifies Mercon's KPIs.
Embracing this innovative system, the Common Fund for Commodities (CFC) became a lender to Mercon in 2021. The CFC loan of USD 5 million supports Mercon with funding for short-term advances to smallholders. In the long run, the CFC hopes that LIFT can serve as a blueprint for other businesses driven by accountable environmental and social impact.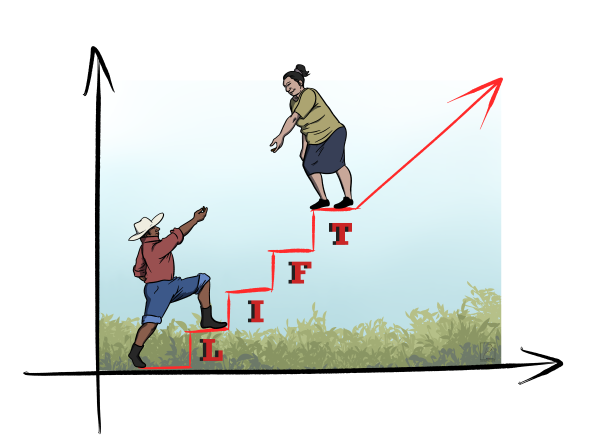 Ever since it was established in Nicaragua in 2016, LIFT has grown to the point that it now works with 4,200 farmers from Nicaragua, Honduras, Guatemala, Brazil, and Vietnam. Three years after joining the program, LIFT farmers from Nicaragua are expected to have increased their annual coffee income – to put this in perspective average yearly earnings for LIFT farmers are USD 6,706.8, compared to non-LIFT farmers who can earn as low as USD 1,474.2. The living income benchmark – calculated by the Living Wage Coalition – is USD 5,125.68/year for a family of four in Nicaragua which means participating in the LIFT program is an opportunity to raise households above this figure.
Strong relationships and constant communication between LIFT farmers and agronomists have been instrumental in achieving such long-term, positive results. Recently, LIFT of Mercon has been recognized by the Global Coffee Platform as 2nd party scheme equivalent to the Baseline Coffee Code. This means LIFT is now eligible for GCP Roaster and Retailer Reporting on Sustainable Coffee Purchases!
How did LIFT achieve this? It starts with making sure they are providing the best service to their smallholder farmers. LIFT agronomists receive regular training – at the beginning of each year, their knowledge is assessed and gaps are addressed. Training is provided by internal and external experts on a range of topics such as farm management, best agricultural practices, regenerative techniques, certification, gender equity, and farm planning. Webinars are also held to keep them up to date with innovation in areas such as nutrition and integrated pest management.
Once their skills have been fine tuned, agronomists move onto training producers with a result-oriented, personalized and practical approach. Accompanied by the producer or a designated person, the agronomist conducts a complete tour of the coffee plantation and determines the farmers' knowledge of farming practices. This is a crucial starting point that will shape the personalized farm management plan and the technical assistance to be delivered.
"The best way to do this is to learn by doing. This is why we start with the participants' prior knowledge and experience, before building the knowledge or practice we want to instill in them", explains LIFT agronomist, Elvin Alaniz.
During this visit, farmers share their doubts and discomforts, and agronomists identify the life-cycle stage of the crop and areas for improvement, after which technical recommendations are provided. In addition, farmers and agronomists regularly communicate on the phone, which allows for timely and personalized assistance, fostering a trusting relationship.
This personalized approach has proved to be successful. As Elvin observes, "producers have improved their abilities in managing their plantations" thanks to better record keeping and alignment with the LIFT guidelines. This has further enabled farmers to make progress on environmental issues, specifically in rational agrochemicals management and use of fertilizer, ultimately enhancing productivity.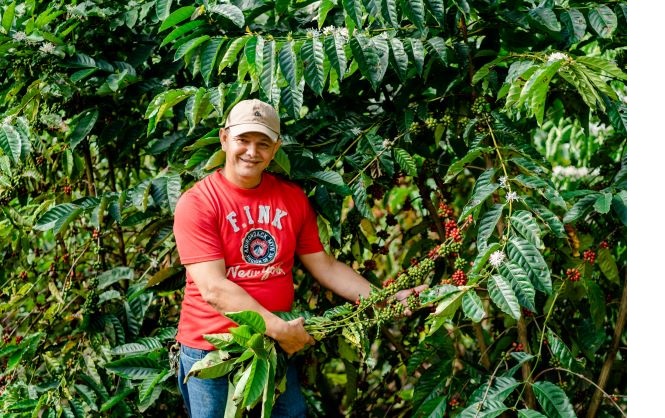 "Integrated crop management has really helped me, especially by using organic soil amendments", says Norlan Palacio, a Nicaraguan LIFT farmer who joined the program in 2016. His motto is: "healthy soil, more productive plants".
Not only has the technical assistance improved productivity, it has also kept the harvest consistent, stabilizing incomes. Emilseades Meza, a LIFT farmer since 2017, reports, "before joining LIFT, coffee yields could be high one year, but very low the following one".
A unique feature of LIFT is its focus on developing a wide range of skill sets. In the second year of the curriculum, producers receive financial education, helping them manage the farm better and involve their families. "Now my children oversee everything related to farm certification, my wife keeps the records, while I supervise the field activities", says Norlan. "With LIFT we know that being a coffee producer is more than just producing coffee; here we are all united and we all get benefits. And the major outcome we see is on the community, something we didn't have before".
Engaging with LIFT, therefore, is about more than a mere transfer of knowledge and skills. It's about providing business services and developing a relationship around trust and support, which farmers are proud to be part of. "Working together, we grow together, and I feel confident to be part of the LIFT program", says LIFT farmer Donald Blanco, father of three children.
Impressive progress has been made on all three LIFT pillars. According to agronomists Janira Centeno and Elvin, the Productivity pillar is the most challenging to achieve results for. In the short term, productivity depends on the economic situation of producers, who are aware of the benefits of adopting certain practices but struggle to boost the nutrition of their coffee plantations. The main reason behind this limitation is the lack of legal land ownership, which hampers farmers' access to finance that can improve farm management.
Besides technical assistance, productivity requires a socio-cultural ecosystem too. LIFT demonstrates how a company like Mercon can grow alongside its farmers and develop a circle of prosperity. The program shows the potential businesses have to positively impact people and the environment. In a world that increasingly calls for transparent and sustainable value chains this is going to become.  ever more important. To this end, the CFC is excited to have recently extended its collaboration with Mercon.
"The CFC works to address the imbalance in the distribution of bargaining power, where coffee producers are the weakest participants in the value chain, keeping their prices consistently low. However, with LIFT, coffee producers not only found a way out, but they also got much needed knowledge and assistance to address the downward price spiral" states Ambassador Sheikh Mohammed Belal, Managing Director of CFC.
He hopes that LIFT will inspire others in the coffee value chain to adopt  innovative business models, ensuring that financial returns always go hand in hand with social and environmental impact.